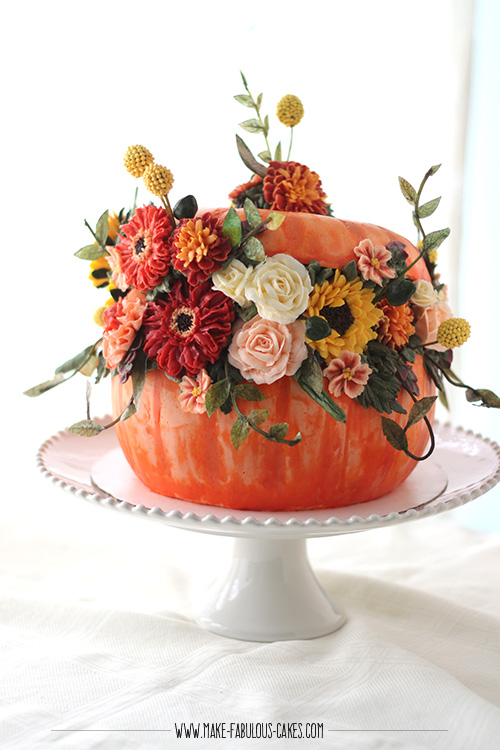 Elevate Your Fall Celebrations with a Gorgeous Pumpkin Floral Cake
Make a beautiful buttercream centerpiece cake for your fall celebrations!
This online cake class is all about the warm colors of the fall season and creating this no carve pumpkin cake decorated with buttercream flowers and wafer paper leaves.
This cake is perfect for the Thanksgiving holidays or any fall events that you may have. It will double as a floral arrangement and dessert as well, that's 2 for 1 :)
Yes, there is NO CARVING required for this pumpkin cake!
What to Expect in Our Pumpkin Floral Cake Online Class:
🍂 Embrace Fall Colors: Dive into the warm, inviting hues of the autumn season as you create a cake that's perfect for Thanksgiving gatherings and all your fall events.

🎂 No Carving Required: That's right, you won't need to wrestle with carving tools to shape your pumpkin cake. We've simplified the process, making it hassle-free and enjoyable.
🌸Buttercream Beauty: Learn the secrets of crafting exquisite buttercream flowers that will adorn your cake, turning it into a work of edible art.

🍁 Wafer Paper Elegance: Discover the art of creating delicate and lifelike wafer paper leaves, adding a touch of elegance to your autumn masterpiece.
🦃 Perfect for Thanksgiving: Impress your guests with a cake that not only serves as a dessert but also a captivating centerpiece for your Thanksgiving table.


What's included in this class:
Recipe for buttercream that's perfect for piping flowers and frosting cakes.
Learn different buttercream coloring techniques for realistic looking flowers.
Assembling a buttercream pumpkin cake.
Learn how to create wafer paper leaves with stems (no wires used)
Learn how to pipe the beautiful buttercream flowers (see below)

There's so much tricks and techniques that you are going to learn in this class. You can apply all what you learn to make your own designs, it doesn't have to be a pumpkin or a fall themed cake! 
What Students Are Saying...

🌼🍰 Get ready to bring the beauty of fall to your dessert table with our Pumpkin Floral Cake class. 🍰🌼
You get LIFETIME access to online video tutorials that you can watch over and over, wherever you are as long as you have internet access!
Got questions? No worries, you get access to the instructor inside the class if you have any further questions.
See you in class!